Our mission is to create and support programs enhancing the literacy and self-esteem of disadvantaged children and their families in and around the New York area. The Family Literacy Programs, Brooke Packs, and Brooke's Books are among the projects we sponsor that help thousands of children in diverse city, agency, and school programs.
The Brooke Jackman Foundation, a nonprofit, public 501(c)(3) organization, was created in October 2001 in response to the September 11 World Trade Center attack that claimed the life of Brooke Jackman, age 23. The Foundation honors Brooke's legacy: a deep love of reading and a profound interest in helping children.
Brooke Jackman Foundation Compilation Book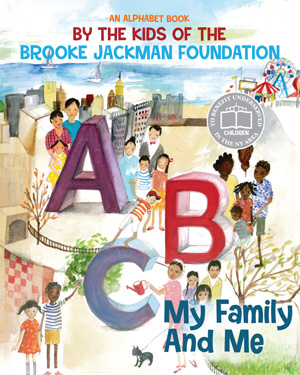 Brooke Jackman Foundation has produced three children's compilation books. A culmination of all the work that our literacy programs do throughout the year, each book is compiled of stories sourced from the very children that our literacy programs serve. We launched our first book in conjunction with the Readathon, and have made this a yearly tradition for the Foundation!
Mara Davis BookPALS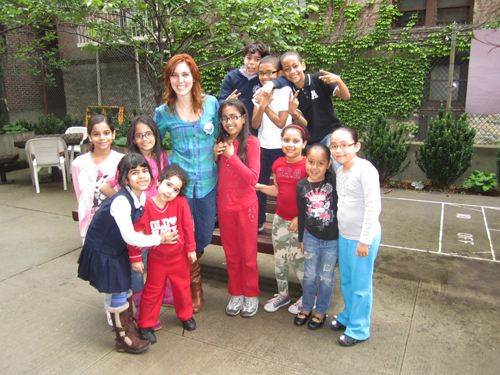 Brooke Jackman Foundation has partnered with BookPALS, a program of the Screen Actors Guild Foundation, consisting of professional actors who take time out of their busy schedules of auditions and photo shoots to read aloud to children at public schools and literacy programs across the country. Our first BookPALS reading kicked off at the YM & YWHA of Washington Heights and will continue at our various locations throughout the city all year long!
The Brooke Jackman Family Literacy Programs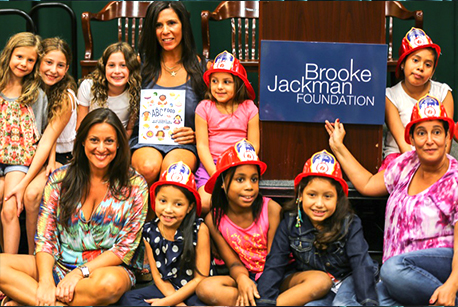 The Brooke Jackman Family Literacy Workshops were designed to engage parents or guardians and their children in literacy-based activities. Each participant receives take-home literacy packages and age-appropriate books to support their work at home. Parents learn concrete strategies to keep up their child's learning during the workshops and at home. It is our hope that the magical world of books will continue to promote reading aloud together each night. The program began with 100 families and today welcomes more than 1,000 families for children ages 5–12 each year. All participants are offered a nourishing meal for the families. Graduates of the BJF Literacy Program each receive our signature Brooke Pack—another tool designed to foster bedtime bonding between parent and child.
After successful programs in Williamsburg and Greenpoint, BJF expanded the workshops to Washington Heights and Inwood. They were so well received that we continued our expansion into the NYC Family Justice Centers in Brooklyn, Queens and the Bronx. These Family Literacy Programs were also added throughout the summer as requested by participating families and as graduate programs for families completing prior programs.
Brooke's Books™ Initiative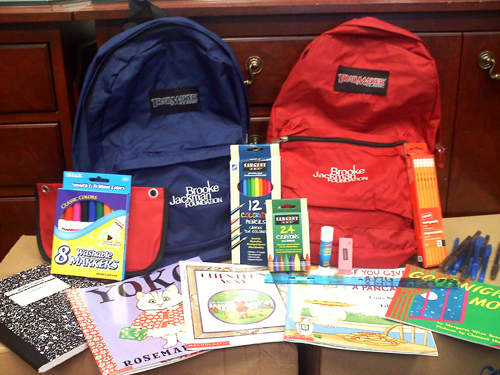 Since 2002, BJF has distributed more than 30,000 Brooke Packs (backpacks filled with books, pens, pencils, erasers, rulers and other school supplies) to underprivileged children in the New York City Metropolitan area and beyond. They are designed to meet the needs of disadvantaged children when other resources are not available. Each one is filled with brand new, age-appropriate books, school supplies and notebooks. Many times, this backpack is their sole personal possession.
In August, 2012, 4,000 Brooke Packs were given out to children living in underserved communities, in time for the first day of school. When requested, the Foundation will respond to the dire needs of those less fortunate outside the New York area. In 2004, we distributed Brooke Packs to school children in the Gulf States who had been affected by Hurricane Katrina. And in 2008 we distributed Brooke Packs to children affected by the disaster in Haiti, as well.
"A new backpack for the first day of school can make all the difference to a young child, boosting self esteem and the outlook for a new school year. It along with the school supplies inside will play a vital role in helping them achieve academic success during the school year."

Margaret Menghini Homes for the Homeless
SCOPE Camp Initiative
Since 2003, The Brooke Jackman Foundation has provided nearly 300 camp scholarships to low income, inner-city children who would benefit the most from Summer Camp Provides an Edge (SCOPE) two-week programs. The Foundation strongly believes in the educational and developmental benefits offered by attending camp. As an important adjunct to school, camp can help children develop self-esteem and social skills in a safe environment. And all BJF campers attend literacy-based camps to ensure they benefit from literacy programs year round
The Brooke Jackman Library Initiative
In partnership with the Books for Kids Foundation, the Foundation has opened four Brooke Jackman Libraries making books accessible to all. The libraries are carefully designed to foster a love for reading by making books accessible to all. Each library comes equipped with an age-appropriate book collection carefully selected to reflect the backgrounds and life experiences of the children who attend. Libraries include comfortable chairs, rugs, listening centers, motivational posters and decorations. These warm and welcoming environments encourage children to explore the world of books.
This environment is especially important at the Family Justice Center libraries which are for children who have experienced violence and turmoil. These libraries give them the opportunity to explore the magical world of reading in a safe and comfortable environment.
In 2005, the first library was created at the after-school program at P.S. 111 in Manhattan and is used by students enrolled in the Brooke Jackman After school programs there. The second library was established at the Grand Street Settlement Child Care Center on the Lower East Side of Manhattan. In March, 2009 the Foundation opened its third library at the Family Justice Center in Brooklyn for children and their families who are victims of Domestic Violence. And the fourth library opened in September, 2009 in the Crimes Against Children (CAC) Bureau at the Kings County District Attorney's Office. Future sites are being planned.
Brooke's Cooks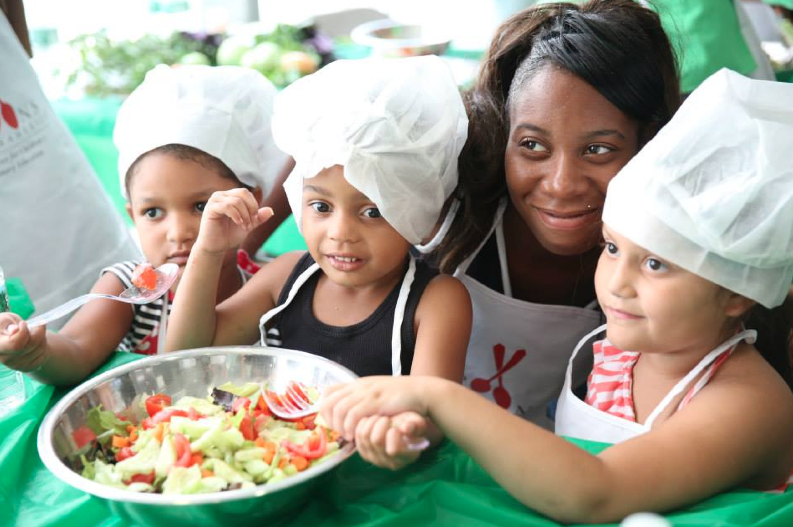 The Brooke Jackman Foundation's newest initiative, Brooke's Cooks, is designed to promote literacy, learning and family, while encouraging healthy living among at-risk children and their families in the New York City area.
The first Brooke's Cooks event was held on Thursday, July 31, with nearly 50 children ages five-12 and their families at the St. Nick's Alliance in Williamsburg, Brooklyn. Click here to view highlights from the day!
With programming led by Spoons Across America, attendees engaged in a discussion about eating seasonally and locally, and the children learned how to properly measure ingredients and cut safely. The group then made a salad and homemade vinaigrette with fresh ingredients, including vegetables and herbs the children picked from the St. Nicks garden. Each child also went home with a copy of Salad People by Molly Katzen as well as a handout with nutritious recipes to make at home with their families.
Watch our video to learn more about the program.