BookPALS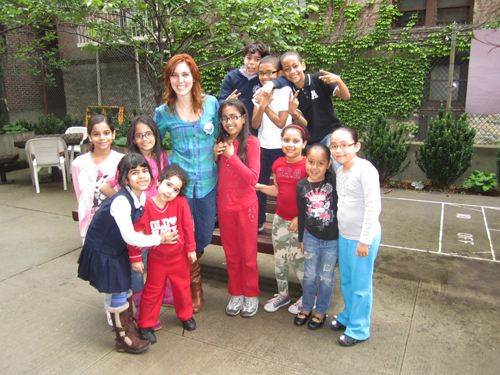 Brooke Jackman Foundation has partnered with BookPALS, a program of the Screen Actors Guild Foundation, consisting of professional actors who take time out of their busy schedules of auditions and photo shoots to read aloud to children at public schools and literacy programs across the country. Our first BookPALS reading kicked off at the YM & YWHA of Washington Heights and will continue at our various locations throughout the city all year long!
SCOPE Camp Initiative
Since 2003, The Brooke Jackman Foundation has provided nearly 300 camp scholarships to low income, inner-city children who would benefit the most from Summer Camp Provides an Edge (SCOPE) two-week programs. The Foundation strongly believes in the educational and developmental benefits offered by attending camp. As an important adjunct to school, camp can help children develop self-esteem and social skills in a safe environment. And all BJF campers attend literacy-based camps to ensure they benefit from literacy programs year round.
[one_half][learn_more caption="The Brooke Jackman Library Initiative"]In partnership with the Books for Kids Foundation, the Foundation has opened four Brooke Jackman Libraries making books accessible to all. The libraries are carefully designed to foster a love for reading by making books accessible to all. Each library comes equipped with an age-appropriate book collection carefully selected to reflect the backgrounds and life experiences of the children who attend. Libraries include comfortable chairs, rugs, listening centers, motivational posters and decorations. These warm and welcoming environments encourage children to explore the world of books.
This environment is especially important at the Family Justice Center libraries which are for children who have experienced violence and turmoil. These libraries give them the opportunity to explore the magical world of reading in a safe and comfortable environment.
In 2005, the first library was created at the after-school program at P.S. 111 in Manhattan and is used by students enrolled in the Brooke Jackman After school programs there. The second library was established at the Grand Street Settlement Child Care Center on the Lower East Side of Manhattan. In March, 2009 the Foundation opened its third library at the Family Justice Center in Brooklyn for children and their families who are victims of Domestic Violence. And the fourth library opened in September, 2009 in the Crimes Against Children (CAC) Bureau at the Kings County District Attorney's Office. Future sites are being planned.