BACK TO SCHOOL WITH BROOKE PACKS
Since 2002, BJF has distributed more than 70,000 Brooke Packs (backpacks filled with books, pens, pencils, erasers, rulers and other school supplies) to underprivileged children in the Metropolitan area and beyond. They are designed to meet the needs of disadvantaged children when other resources are not available. Each one is filled with brand new, age-appropriate books, school supplies and notebooks. Many times, this backpack is their sole personal possession.
In August, 2012, 4,000 Brooke Packs were given out to children living in underserved communities, in time for the first day of school. When requested, the Foundation will respond to the dire needs of those less fortunate outside the New York area. In 2004, we distributed Brooke Packs to school children in the Gulf States who had been affected by Hurricane Katrina. And in 2008 we distributed Brooke Packs to children affected by the disaster in Haiti, as well.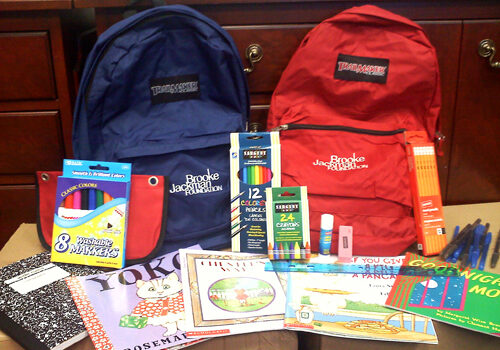 "A new backpack for the first day of school can make all the difference to a young child, boosting self esteem and the outlook for a new school year. It along with the school supplies inside will play a vital role in helping them achieve academic success during the school year."
Margaret Menghini Homes for the Homeless